What is MasterCard SecureCode ?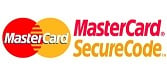 MasterCard SecureCode (MCSC) is the 3D Secure protocol which was developed by MasterCard International to improve the security of internet payments and prevent the problem of fraud. MasterCard SecureCode Password Inquiry System and Personal Greeting System (PGS) that chosen by the credit cardholders are required, everytime the online payment is made to confirm your identity.

MasterCard SecureCode Benefits
Extra security with MasterCard SecureCode™ Password, the code that the cardholder decide.
Double protection with Personal Greeting system, another layer to ensure the safety of online payment.
Easily and quick activation with FREE OF CHARGE.
Who can enroll MasterCard SecureCode ?
All MasterCard cardholders which their card issuers support MasterCard SecureCode, are qualified to enroll this service.
Watch Out!!! Internet Security Threat!!
There are many online threats especailly stealing information via credit cards when the cardholder make a payment for a product or service on websites. Hence, it is necessary to be aware of those. However, you can ease your mind when you see the sign of MasterCard SecureCode which is applied to increase a security level for the MasterCard holders. Therefore, our suggestion is that you should better activate your card for your own protection.