How do I know if my credit card supports MasterCard SecureCode?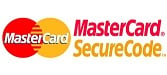 The easy and simple way to know whether your credit card supports MasterCard SecureCode or not is to directly contact your credit card issuers. They will give you an up-to-date information of this service and suggest you the correct web link to their enrollment page. Otherwise, you can get more information by visiting the MasterCard International website by clicking the link below :

MasterCard SecureCode program

Link to enroll and activate MasterCard SecureCode.

All MasterCard cardholders which their card issuers support MasterCard SecureCode are qualified to enroll the service. We have provided the links to redirect you to the enrollment page as followings :
If your cards is a NON-THAILAND card issuer,
You can try the link below to search for the card issuer in each country that support MasterCard SecureCode.
Global Web Site : Click this link to search for your local card issuer
If you need to save time, we recommend you to call your card issuer and ask for the information.


If your card is a THAILAND card issuer , there are now 6 issuers who support MasterCard SecureCode. By clicking the logo below, you are promptly redirected to the enrollment page of each card issuers.