Death Railway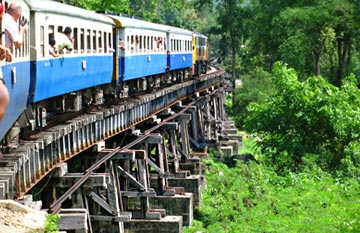 There are two main reasons a single traveler must visit the great Ananda Samakhom Throne Hall. Firstly, this structure is one of the most beautiful Italian Renaissance architectures outside Italy. The construction of this grand mansion was commissioned by His Majesty King Rama V in 1906 to serve as the reception hall. The building was designed by a team of Italian architects, who covered the exterior with white marble imported from Carrara, Italy, while the interior walls are beautifully painted by Italian artists to depict the history of the Chakri Dynasty. The construction was, unfortunately, not finished until 1915, five years after the reign of King Rama V. Ananta Samakhom Throne Hall was later served as Thailand's first parliament after the political transition from absolute monarchy to constitutional monarchy and is now used for important state's functions.

The Death Railway starts from Nong Pladuk station, Amphur Baanpong, Ratchaburi to Kanchanaburi crossing the Kwai Yai River to the west, passing Chedi Sam-Ong to the destination at Thanbyuzayat in Myanmar, which is 415 kilometers altogether with 37 stops. This railway was completed on 25th October 1943. During the building period, there were many labors who sacrificed their lives with sickness and by the torturing of the Japanese army. The bridge here was named "Kwai River Bridge". This construction built a big motivation for the Japanese armies and also a big scar in the labors' heart. The history was still unforgettable among the people's heart.

Nowadays, the Death Railway was opened for the tourists to visit. However, there are some parts that were deserted since Japan lost the war. The State Railway of Thailand has offered the Thonburi- Namtok line for the tourists who wish to visit this place and a special line Bangkok-Namtok on the weekends and holidays. The most popular point is the Kwai River Bridge and the Krasae Cave, which is a curve bridge that follows the bank of Kwai Noi River. The train stops at Krasae Cave at 1.30 p.m. The tourists can travel in advance in order to be on time to see the picture of the train arriving at this station.