"Our organization develops the business with the principle of THE BEST as core competencies"
We believe that each letter in "THE BEST" will maximize the capability of our employees to provide exceptional services and enhance customers traveling experience.
T
= Teamwork
H
= Hospitality & Happiness
E
= Expertise
B
= Benefit
E
= Ethic & Equality
S
= Smart
T
= Trusty
As we put THE BEST into practice and emphasize on quality of service, we have been one of the Top selection Thailand Tour Agency in the past 12 years. Thai Travel info service Ltd. was founded in 2001, our company was first registered as a partnership limited. Later in 2004, we became Thai Travel Info Service Company Limited. Our mission is to provide an integrated traveling business with main priority to offer a reliable and a wide variety of travel services in both domestic and overseas markets. In addition, we are one of the first Travel agency initially present Tour programs through online media (Website), and be an inspiration for other firms to start seeing online selling opportunities.
Company profile
Registered Capital

199,000,000

Thai Baht fully paid.
Commercial registration

0105547034583

issued by Business Development Commercial Center Department.
Tax value added registered (Por Por. 20), the tax file number is

0105547034583

issued by Revenue Department.
TAT license

11/03799

issued by Thailand Traveling Center (IATA)
International Air Transport Association

35-3-08383

Certificate of Electronic Commercial Business

0108614827406

issued by Ministry of Ecommerce.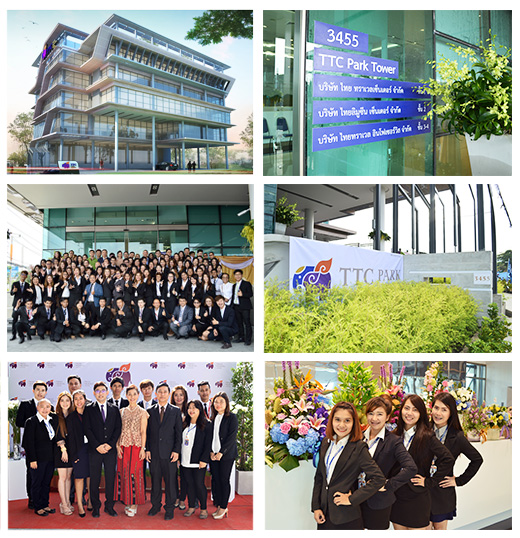 Vision & Mission
Our goal is to be the leading Travel agency in Thailand, and Asia Pacific in a bigger scale. We aim to be a reliable MICE operator, with a concept of being an event planer/management agencies, venue finder, incentive houses, and corporate meeting planner and establish exhibition. We aim to be a one stop service tour and Travel Company, providing twenty-four seven service for costumers and innovative technology constantly updated to be applied to our business.
Head office
3455 TTC Park Tower 3rd- 4th Floor Rama 9 Rd., Suanluang, Bangkok 10250
Our total number of full time employee is 145 persons
(As of September 20th, 2016)
Thai Travel Center
Our Company the company was found and registered the website under the name ThaitravelCenter.com in year 2003. Our mission is to be Thailand leading website to provide information and a wide variety of travel businesses on the internet. We have been developing continuously to respond to a growing number of visitors to our website that keeps on increasing every year. Our website also supports the business transaction for an electronic commerce with the cooperation from Thailand leading banks such as Kasikorn Thai Bank and Bangkok Bank. Our online reservations for airplane ticket, hotel, package tour reservations, thus have a highly world class security online protection and log on system for customer data accesses recognized by We believe that it is a very important issue for an online transaction to be highly secured. We also have the computer server to help control and manage a very high effective security matter. Moreover, we are also a member of Thailand electronic commerce group which is supported by ICT ministry.
From the statistic from the Government Information Technology Services which has been collecting the internet usage statistic of Thailand. This organization has been collecting our website ThaitravelCenter.com visitor information since year 2007 from Jan – Dec. The number of visitor around the globe was 4,052,286 which was increased from year 140% increased from 2006 and thus made us become the top the traveling website service provider (Travel Agency) in Thailand.
Main services of our organization

We sell over 30,000 routes of the air flight around the world of over 200 of the leading airline company. You can also book air tickets through our staff at Thai Travel Contact Center with Auto 300 lines every day. Just give us a call at 02-1719999. We are also one of a few companies in Thailand who open booking through the website.




We sell domestic and international package tour included travel with the leading airline such as Royal Orchid Holiday Package Hong Kong Cathay Super city, Package Wow Singapore Airline, American Dreamy Package from United Airline, and etc. Our services also include arrangement, planning a party tour, an individual tour, and a group tour. Our advantage is quality and we are also the traveling center. We've done a lot of marketing to be the tours distributor of the leading traveling allies.




We provide hotel, resort, and apartment reservation service both domestic and international. Our customer can also book online by themselves in rushing hour or through our customer service representative. Moreover with the helps of the allies in the group of top management of the leading online hotel services of over 30,000 around the world which will be increased to 50,000 in the beginning of October year 2008 to ensure the convenience, alternative, and fast confirmation.




We provide the traveling insurance service for both single and family with optional of daily, yearly by the world class leading company such as IAG and ACE Insurances.



We provide overseas train booking services in Europe, America, and Japan in an economy rate e.g. Euro Star trains, Japan Rail pass and Shinkansen, and etc.





Renting cars from leading domestic and international car rent companies such as Budget Car Rent, AVIS and Hertz for special prices.





We provide visa services in many countries for the customer who finds it is inconvenience to do it themselves.




Our customer
Any customer wishing to contact the Service Center (those who are exposed to the advertisement from media)
Customer from the internet
Walk in customer
Previous/ repeat customers. The number of this group in Bangkok, other provinces, and overseas is increasing.
Agent that operate as an intermediary. (e.g., Travel Agent, Hotel, and sale representatives)
Customers from public company, university, and institute.
Customer from government sector and local administration.
Special service for organization customer
Realizing the need of frequent trip of corporate customers, we offer more than special price. If your purchase trips exceed the quota, you are entitled to receive Corporate Direct Assistance which allows you to have direct number to our service staff who will be specially assigned to take care of you

After sale services
We always remember that to get customer is not as important as to keep them. Our company concentrates on our well standard services and responsibility. We use an up to date system such as CRM for collecting data, customer desired information supported, requirement management to support and response to customer which is daily increased. Our system will respond the needs of customer promptly and effectively. The customer will be satisfied from the first day they purchase our service and even after their trip ends. The customer can be assured of the quality services every time so that they never feel like traveling alone.

We welcome your comment for any improvement and development of our website and services. Please send the comment to comment@thaitravelcenter.com We would be more than happy to hear from you.

This is our commitment to improving service and we will keep up the good work with an aim to excel in an integrated travel business in Thailand.
Our historical and reward

2016 Best selling Japan package annually, 2015, by Japan National Tourism Organization (JNTO)





2015 Best selling Japan package annually, 2014, by Japan National Tourism Organization (JNTO)





2015 In Accreditation of Tourism Business Company Standard. Under the development project of Tourism Business and Tourist Guide Standard from Office of Tourism Development, Ministry of Tourism and Sports of Thailand.





2007 - 2015 An award for the reliable electronic commerce website (Trustmark) year 2008 issued by business development department of ministry of ecommerce. We are the first organization to receive this award in the country





2007 - 2014 Best Top 20 tourism website with highest service user 7 years continuously in Thailand, from International Innovation Research Center Network Thailand (Truehits.net).





2009 In Accreditation of Tourism Business Company Standard. Under the development project of Tourism Business and Tourist Guide Standard from Office of Tourism Development, Ministry of Tourism and Sports of Thailand.





2006 - 2007 Best reservation seat award from 2006 – 2007 by Galileo Thailand LTD. the service provider for reserved GalileoTM seat.





2005 - 2007 Best selling award from 2005 - 2007 (3 years consecutively) by Cathay Pacific Airways Thailand (Cathay Pacific Top Agent Award 2005 - 2007)




Investor
Company Location